During the weekend of the 23rd through the 25th of September, 'Abdu'l-Bahá took a side trip to Bristol, on the South West side of England. He praised the country side for its fresh greenery and spacious woods and fields.
The more research I do, the more fascinated I become with the individuals close to 'Abdu'l-Bahá during this voyage. One individual that I admire is Wellesley Tudor-Pole. He was present at many of the events that took place in England. The following excerpt is part of his account of the Master's visit in Bristol.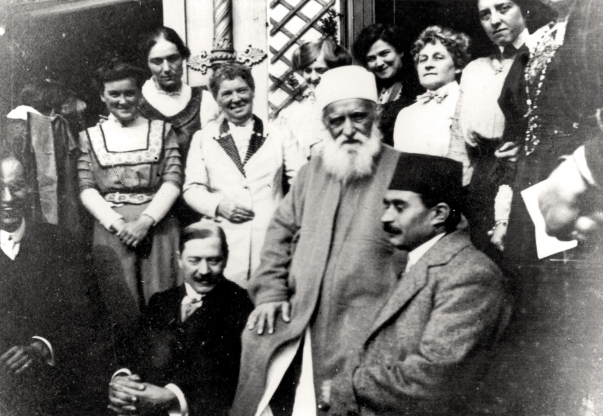 'Abdu'l-Bahá arrives here from London mid-day on Saturday, Sep 23rd, and was much pleased with the glorious Clifton views from the Guest House windows and balcony, and with the splendid air. After a short rest, carriages were ordered and an extensive drive was taken through some of the world-renowned beauty  spots around Bristol and neighbourhood. 'Abdu'l-Bahá was much pleased with, everything and indeed has been radiating joy and happiness among us all. At the evening meal nineteen sat down with the Master now being taken in the Cause of Unity and Peace throughout this country. He told us that this supper was a great and holy occasion and would be recorded in history. The meal itself, partaken of in love and harmony, was indeed a sacrament and a mark of unity and fellowship that would bring the blessing of Baha'u'llah upon all gathered round the board. 
After the meal 'Abdu'l-Bahá addressed a gathering of about 80 friends in the Guest House Salon and Tammadon-ul Molk translated. The meeting was a most remarkable one and a wonderful spirit of unity pervaded the whole assembly. The Master spoke vigorously and with great fire, especially in reference to the New Age now dawning and our individual responsibilities in both East and West. He then blessed the whole assembly in the name of Bahá'u'llah and shook hands with everyone. On Sunday, 24th the Master rose early, as is His custom, and from 5am to 8am dictated letters and cablegrams. He then breakfasted with us all and said what great joy it afforded Him to be among so many good friends. Another country drive followed and then he gave several private interviews to friends who had just arrived from London, Edinburgh and elsewhere. 
(Star of the West, Vol. II, No. 12)
This image is actually from 'Abdu'l-Bahá's second visit to Bristol in 1913, but I thought I'd post it anyway to show you Wellesley Tudor-Pole who is standing next to the Master in the front row.
For more information on His stay in Britain visit here.