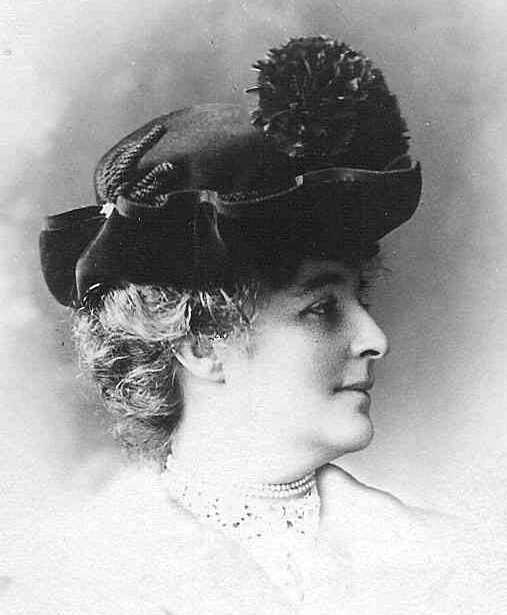 Lady Sara Louisa Blomfield was the first Irish-born Bahá'í, a renowned humanitarian, writer, and London society hostess. She hosted the Master while He was in London in 1911 and 1913 at her home at 97 Cadogan Gardens. She penned The Chosen Highway — a chronicle of the early days of the Faith which she completed on the eve of her passing. And she was a staunch supporter of the rights of women, children, prisoners and animals. She was a woman of action: at 'Abdu'l-Bahá's bidding she established a Bahá'í centre in Switzerland and she cared for the wounded in World War I (at lunch telling her daughters who, like her, were in shock at the heart rending state of their wards, "we must eat, or we shall be ill ourselves. Then we shall not be able to help."). She was involved in the establishment of the Save the Children Fund, advocated for her persecuted spiritual brethren in Iran to the British Parliament, and worked closely with the League of Nations. And, most relevantly to our place in charting His journey west: it is owing to Lady Blomfield's copious notes of His addresses and conversations that we now cherish Paris Talks.
Many historical figures like Lady Blomfield sometimes remain an enigma to me. It is easy to chart their lives with a string of monumental meritorious deeds but getting to know them is akin to filling in colours on a black and white portrait. Until now. I recently read Mary Basil Hall's tribute to her esteemed mother in The Bahá'í World and in it, I caught a glimpse of Lady's Blomfield's personality and radiance:
I can see her, eager, vital, full of sublime enthusiasm, never losing a word or a movement of the Master's, fully realising that this visit was an event which belonged to the world.
At this time she had the beauty of a mature soul. The moulding of her face was lovely, and she remained beautiful to the last. Her facial expressions, ever changing, reflect the spiritual harmony within. Her dress, not fashionable in the ordinary sense, was distinctive and individual, without being strange. She wore garments with long flowing lines which made her seem taller than her natural height, and she was upright always in her outward statues as she was in her soul. Her favorite colour was blue, and she would wear it with her grey or black dresses, in a scarf of a veil which she sometimes bound around her head. I can see her, eyes shining, welcoming pilgrim guests to the presence of the Master.
'Isn't it wonderful!' she would exclaim. 'Isn't it wonderful?' and her hands would emphasize her words in an emphatic movement, difficult to describe because it was never the same.
Such details gild my understanding of who Lady Blomfield was and increase my awe of the woman the Master renamed Sitarih Khanum, or Lady Star.
Sources:
http://bahai-library.com/biography/blomfield.children.html
The Bahá'í World (Volume VIII), p. 651-2
1 Comment