At the time of the Master's travels the western believers had little access to the Writings of the Báb or Bahá'u'lláh. The last page of some issues of "Star of the West" list the literature available for sale in 1911: it lets us peek into the past and see the meagerness of what was in the hands of those early souls.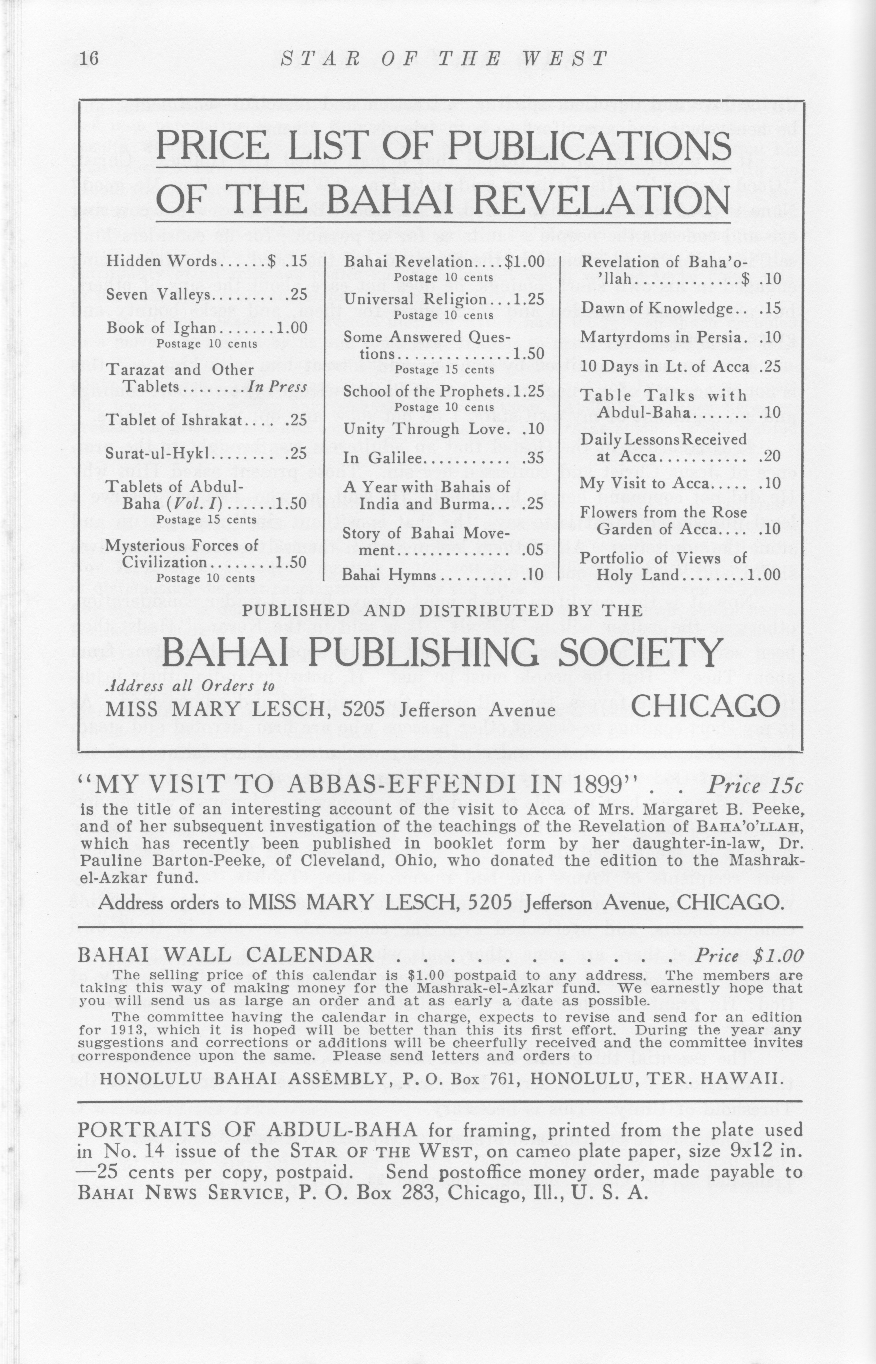 I have recently discovered — in amongst the relative mountain of Bahá'í literature available today —  a sweet little yellow book titled In His Presence: Visits to 'Abdu'l-Bahá and it describes what access the Western Bahá'ís had to the Sacred Word:
For them the major corpus of their Sacred Scripture consisted of Tablets (i.e. letters) of 'Abdu'l-Bahá. […] American Bahá'ís began writing to 'Abdu'l-Bahá as early as 1894, and He received an almost continuous stream of letters from the Bahá'ís in the West from that time on. His replies, the fruits of this correspondence, are collected in such books as Selections from the Writings of 'Abdu'l-Bahá, Bahá'í World Faith, and Tablets of 'Abdu'l-Bahá.
Many of these tablets form part of our prayers and meditations, even though we may be unaware of how they link us to our spiritual ancestors. One of my favorite prayers (the prayer for husbands found in most English prayer books) was a tablet written to Corinne True to recite for her husband Moses.
A second avenue of communication with 'Abdu'l-Bahá was to go on pilgrimage to the Holy Land and meet Him. But with the Master's travels to the West suddenly it wasn't only a handful of western believers who had met the Master and heard Him speak — the majority of Bahá'ís were able to come into His presence. Stanwood Cobb recounts how the Master's method of speaking was adapted to the ears of His western audiences. He writes:
All Oriental seers are prophets speak oracularly. One sentence, one paragraph will contain a wealth which a lifetime of thought cannot exhaust. Christ spoke this way. Bahá'u'lláh spoke this way. But 'Abdu'l-Bahá, for the sake of the Western world, adopted the Greek mode of presentation, carefully elaborating His theses and developing them from known and admissible premises. In no place is 'Abdu'l-Bahá ever obscure of recondite. […] He translated the oracular teachings of Bahá'u'lláh into a language and form easily comprehensible to the West. So that no one, having available these lucid pronouncements of 'Abdu'l-Bahá, can say that the Baha'i Faith is hard to understand. 'Abdu'l-Bahá has set forth its Teachings with the lucidity of daylight and the warmth of sunlight. 
In addition to the Master's discourses and tablets, a third silent form of communication was the very personage of the Master whose every action as the Perfect Exemplar demonstrated His illustrious Father's teachings.
Sources:
In His Presence: Visits to 'Abdu'l-Bahá, p. viii-x, 46-8
Corinne True: Faithful Handmaid of 'Abdu'l-Bahá, p. 40