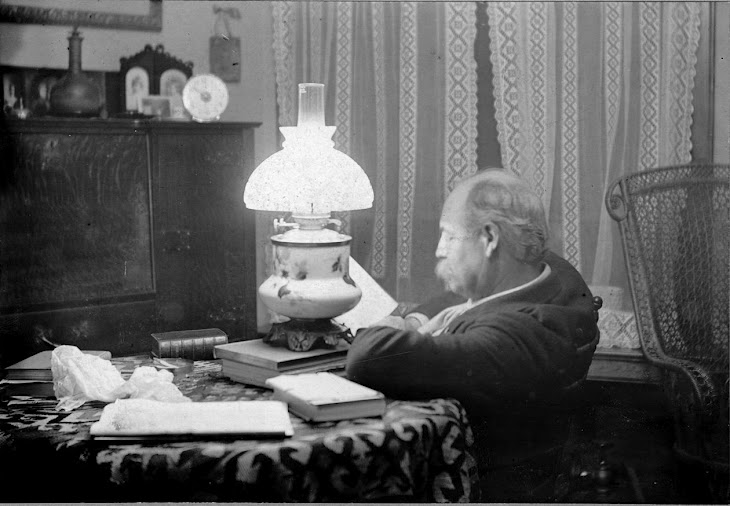 Thornton Chase was designated by 'Abdu'l-Bahá as "the First American believer". He was the first to embrace the Cause of Bahá'u'lláh in the West after following a friend's recommendation to meet Ibrahim Kheiralla, a Lebanese immigrant who claimed that God recently "walked upon the earth": he joined Kheiralla's first class on the Bahá'í Faith in Chicago. The year was 1894.
What better words to extol Thornton Chase than those conveyed by 'Abdu'l-Bahá:
… I love Mr. Chase very much indeed. His heart was pure. He had no other aim except service to the Cause; he had no other thought except the thought of the Kingdoms. Therefore he was very dear to me, and at the threshold of Bahá'u'lláh he was accepted. The Blessed Perfection has invited him to His Kingdom. At this very moment he is submerged in the Sea of His Bounty.
In spite of the shortage of written material available to him, Thornton Chase had a profound grasp of the spiritual essence of the Bahá'í faith: "the individual effort to know and worship God and to struggle to know oneself". He deeply felt that this new faith was not just a religious belief — it was a way of living.
He helped establish the Chicago House of Spirituality, which was the most important Bahá'í governing body in North America for many years. Furthermore, the unity and success of this administrative institution can be traced to his deep understanding of the Bahá'í concept of consultation.
Many of us have been able to access the Divine word via literature published by the Bahá'í Publishing Trust. This trust, known at that time by another name, was created in order to have the Holy Writings translated and circulated among the believers. Thornton was its principal editor and one of its main financiers.
In 1907, his most fervent wish was granted: a pilgrimage to the Holy Land and the opportunity to finally meet 'Abdu'l-Bahá. His book In Galilee is abundant in descriptions of his lessons in unity, love and service: "service is the key to unity, and Unity is the one great theme of the Teacher of 'Akka".
He understood the real station of 'Abdu'l-Bahá as the Center of the Covenant. Unsurprisingly the Master gave him the title of Thábit, which means "steadfast":
O thou firm one in the Covenant! We give thee Thahbet (Thábit) for a name, so that this name be an example of firmness and in the future thou mayest, even more than before, be confirmed in service, and upon thee be El-Baha-el-ABHA!
Thornton Chase did not reject this title; rather he accepted it as a challenge and guide to his spiritual development.
Unfortunately, he did not have the chance to see the Master during His travels to America, as he passed away while 'Abdu'l-Bahá was journeying to California. 'Abdu'l-Bahá made a special trip to Los Angeles to visit his grave. He designated his last home as a place of pilgrimage, revealed a prayer to be recited in his remembrance, and pronounced that his death should be commemorated annually, stating:
This is a personage who will not be forgotten. For the present his worth is not known, but in the future it will be inestimably dear. His sun will be ever shinning, his star will ever bestow light.
References:
Thornton Chase: First American Bahá'í, Robert H. Stockman
Some Early Bahá'ís of the West, O. Z. Whitehead
Photo: www.bahai-insights.blogspot.com
1 Comment