Thousands must have met Him. There must have been hundreds upon hundreds who sought an audience with 'Abdu'l-Bahá, who interviewed Him, who were given a coin, candy or flower from Him, or who witnessed Him in passing. It is not very often that a person's encounter with the Master is unknown but its effects gloriously emblazon history.
Such is the story of Keith Ransom-Kehler, who probably learned of the Faith from May Maxwell in Paris and who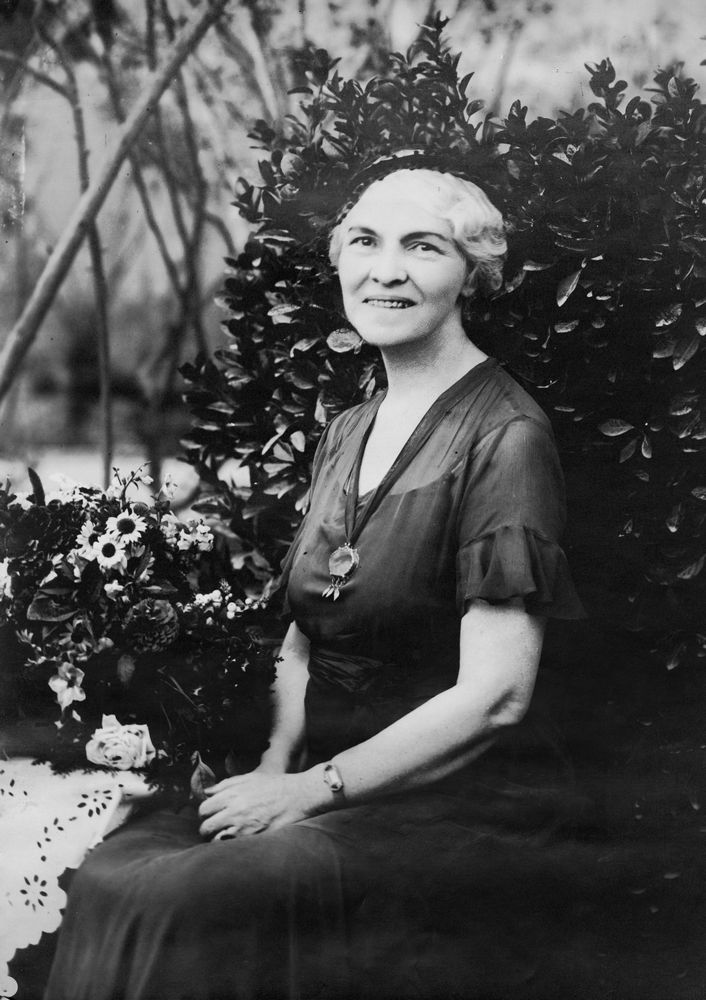 mentioned briefly in her diary her meeting with the Master in America 20 years after it had occurred. She declared in 1921 and quickly  became renown as a public speaker, writer and administrator. In 1926 she went on pilgrimage, and finding Shoghi Effendi crushed by negative correspondence from American Bahá'ís complaining about various believers or assemblies, she rallied the North American friends to become unified. From that year onward, Ramson-Kehler was a world travel teacher visiting the West Indies, Hawaii, Japan, China, Australia, New Zealand, Java, Singapore, Burma, and India.
The entry bearing her name in the Bahá'í Encyclopedia states:
Even though her schedule was often hectic, Ransom-Kehler managed to keep detailed accounts of her travels. Her diaries reveal a truly elegant, upright soul. Because of her quick temper, intellect, and wit, she often restrained her tongue, revealing her thoughts to her diary instead; but these same qualities made her an ardent defender of her beliefs, which included an uncompromising commitment to the advancement of women. She relied on prayer with implicit faith and told friends that she was as emotive with God as she was with people. She said that, when she prayed, "they know there's something doing in Heaven."

She loved literature and took comfort in remembered fragments of old poems, which one finds sprinkled throughout her letters and diaries. She was a passionate lover of beauty with eclectic tastes and a deep interest in the cultures she encountered on her journeys. Her diaries and letters abound with observations of cultural practices, art, and food. She seemed especially taken with Japanese culture and customs. […] Ransom-Kehler's appreciation of beauty and harmony extended to her own grooming, from her carefully waved hair to her thoughtfully chosen accessories. […] She once told a friend "that if she were invited to Buckingham Palace 'tomorrow,' she had the clothes." Yet she was also down to earth and capable of adapting to difficult and dangerous conditions.
The Guardian summoned her to Haifa in 1932 and asked her to travel to Iran with a twofold mission of convincing the Shah to lift the ban on the entry and distribution of Bahá'í literature and to teach the Iranian Bahá'ís about the administrative order. Although unable to assist with the emancipation of the believers, she described her task thus: "I have fallen, though I never faltered". Exhausted and weakened from her travels and her work, she succummed to smallpox in October of 1933 and is buried in Isfahan next to the graves of the King of Martyrs and the Beloved of Martyrs. The Guardian wrote that she, along with May Maxwell and Martha Root, is one of "three heroines of the Formative Age of the Faith of Bahá'u'lláh" to whom we owe a debt of gratitude that "future generations will not fail to adequately recognize."
Sources:
www.bahai-encyclopedia-project.org
Photo from www.bahai.us