'Abdu'l-Bahá arrived on the American shore on 11 April 1912 at a time when many people were immigrating to the U.S.A., fleeing persecution or economic hardship in their countries of birth, and bringing with them dreams, hopes, and fears in one hand, and skills, cultures, and stories in the other.  They sought a new life in "the new world", believing that America was the golden key to a prosperous and successful future.  Many of them saw the markers of the New York skyline, in particular the Statue of Liberty and the skyscrapers, as a symbol of this new world and, later on, of their newly acquired national identity.

On His immigration record, the Master is listed as an "author" and one wonders if this is the occupation He gave Himself.  'Abdu'l-Bahá was so much more than an author and His first response to the New York skyline attests to this.  He added a much needed perspective by speaking about the spiritual reality of these physical landmarks and the spiritual tools required to make "a good life" – instead of being merely material, individual, exclusive and temporary, His perspective was true, eternal and all-embracing.  He did this with a humorous and piercing observation. When He saw the skyscrapers He laughed and exposed the American religious adherence to the idea that the material world would fulfill them, while, at the same time, pointing out the true potential and future responsibility of the American people by saying:
These are the minarets of Western World commerce and industry, and seem to stretch these things heavenward in an endeavor to bring about this Universal Peace for which we are all working, for the good of the nations and mankind in general.
What especially stands out for me is how the Master, upon seeing the Statue of Liberty, invited the people around Him (and – across time – us today) to open one's spiritual eyes to a liberty that is beyond time and space, beyond one's nation and material experience – a liberty that comes with a specific responsibility:
When the ship was abreast the Statue of Liberty, standing erect and facing it, 'Abdu'l-Bahá held his arms wide apart in salutation, and said:
"There is the new world's symbol of liberty and freedom. After being forty years a prisoner I can tell you that freedom is not a matter of place. It is a condition. Unless one accept dire vicissitudes he will not attain. When one is released from the prison of self, that is indeed a release."
Then, waving adieu to the Statue of Liberty, he continued:
"In former ages it has been said, 'To love one's native land is faith.' But the tongue in this days [sic] says. 'Glory is not his who loves his native land; but glory is his who loves his kind—humanity.'"
*     *     *
The Master's full immigration record: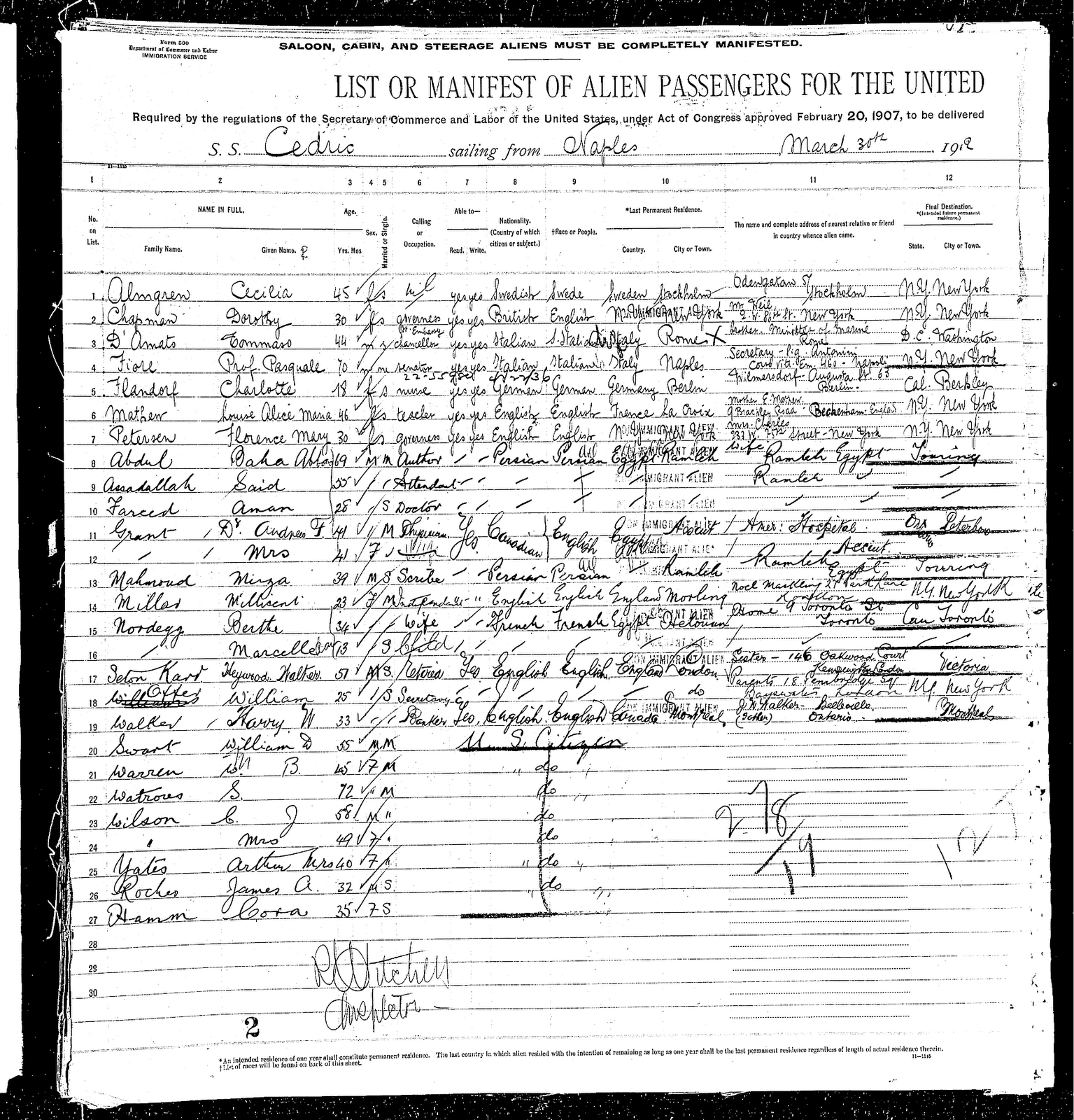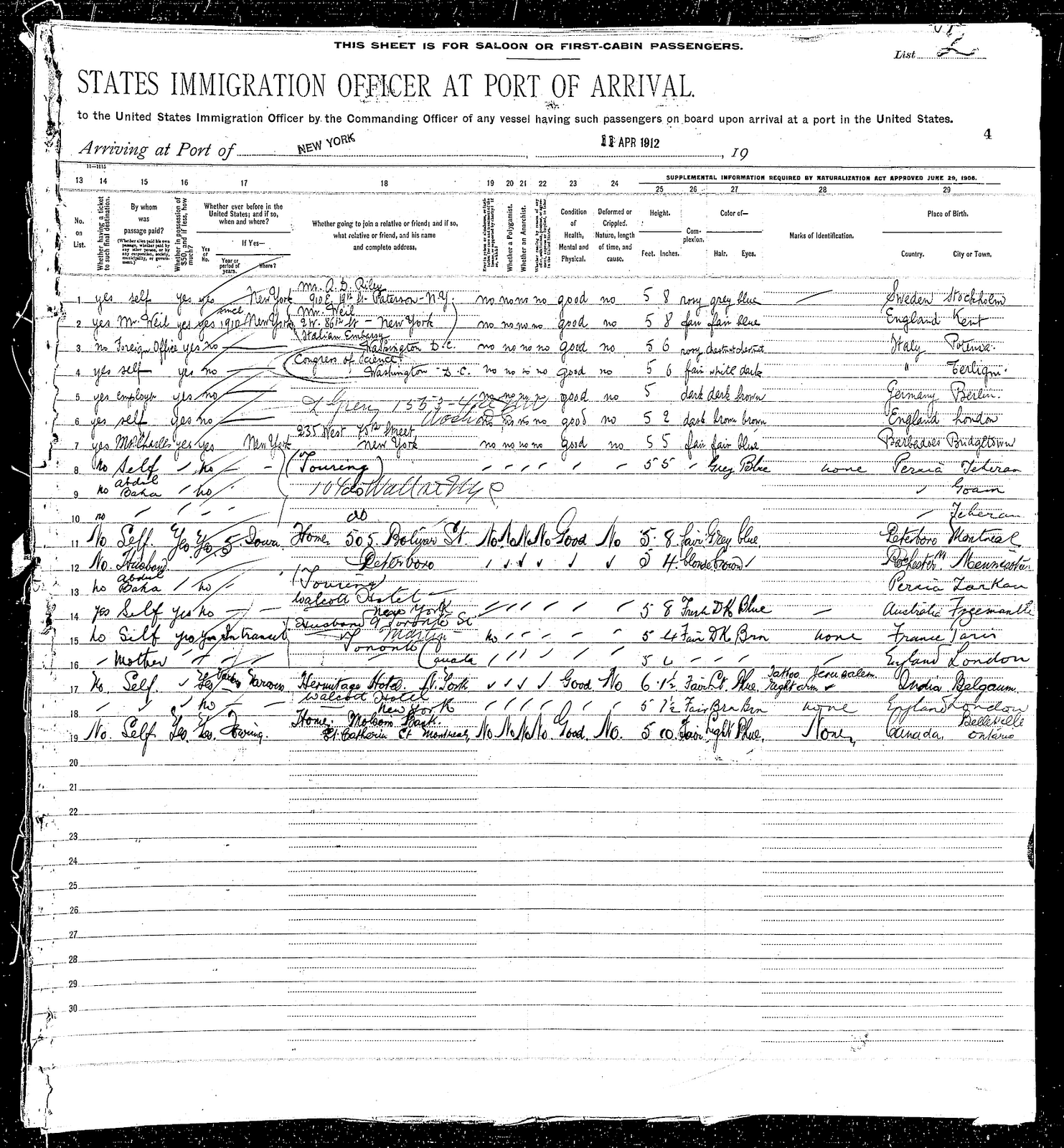 References:
Dodge, Wendell Phillips. 'Abdu'l-Bahá's arrival in America. Star of the West, Vol.III, Chicago, April 28, 1912, Jamal No.3.
Thompson, Juliet. Diary of Juliet Thompson. Kalimát Press, 1983. pp.232-4.
Gail, Marzieh. Dawn over Mount Hira and Other Essays.  Oxford: George Ronald, 1976. p.185.
Redman, Earl.  'Abdu'l-Bahá in their Midst.  Oxford: George Ronald, 2011. pp.55-7
Photos from http://abdul-baha-arrival-america.blogspot.com/2009/09/abdulbaha-immigration-america.html
6 Comments