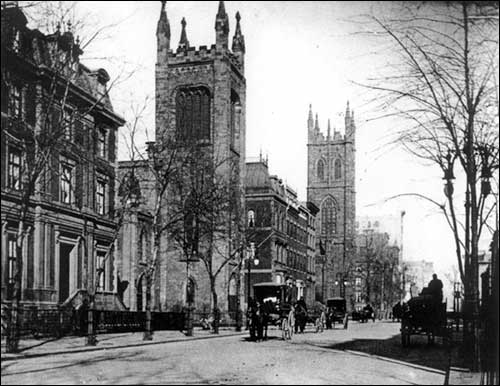 On 14 April 1912 'Abdu'l-Bahá was invited to speak at the Church of Ascension – the very first church in the U.S.A. honored by His presence.  The verse mentioned, by way of introduction, by the reverend from the Epistle of St. Paul to the Corinthians is the axis around which the Master built His talk:
For now we see through a glass, darkly; but then face to face.
The Master reminded the Christian audience that the mission of Jesus Christ – to establish a spiritual civilization built on the pillars of moral virtues and the unity and peace of mankind – is a mission shared by all Prophets throughout time.  Because we are "submerged in a sea of materialism," He explained, we cannot see.  We are unaware of the Bounty showered upon us and of the readily available Divine Assistance that is the life-force of material civilization:
…material civilization is like unto a beautiful body, and spiritual civilization is like unto the spirit of life. If that wondrous spirit of life enters this beautiful body, the body will become a channel for the distribution and development of the perfections of humanity.
'Abdu'l-Bahá's analysis is very much still true today – if not more so.  How can we go about attaining that which we are capable and destined to achieve – namely, the spiritual transformation of this material world?  Indirectly, the Master gives two closely related lines of action:
Right in the beginning of His talk He mentions that "now the splendours of Divinity shall be visible through the translucent mirrors of pure hearts and spirits."  Our task is to become these mirrors, to live a truly spiritual life by embodying and reflecting the spiritual virtues propagated by God's Manifestations throughout time.  Additionally, as 'Abdu'l-Bahá exemplified at the end of His talk, we can and must supplicate God for assistance in becoming mirrors of this kind:
O Almighty! Illumine the hearts. O kind God! Make the souls the envy of the rose garden and the meadow. O incomparable Beloved! Waft the fragrance of Thy bounty. Radiate the lights of compassion so that the hearts may be cleansed and purified and that they may take a share and portion from Thy confirmations. Verily, this congregation is seeking Thy path, searching for Thy mystery, beholding Thy face and desiring to be characterized with Thine attributes.
The ideals of unity and peace are – in the timeless spiritual realm – already a reality; it is up to us to turn towards them, as Bahá'u'lláh councils:
Set your faces towards unity, and let the radiance of its light shine upon you. Gather ye together, and for the sake of God resolve to root out whatever is the source of contention amongst you. Then will the effulgence of the world's great Luminary envelop the whole earth, and its inhabitants become the citizens of one city, and the occupants of one and the same throne.
References
Promulgation of Universal Peace. 14 April 1912: Talk at Church of Ascension
Gleanings from the Writings of Bahá'u'lláh, CXI
Mahmúd's Diary, 14 April 1912, p.43
Photo: Church of the Ascension circa 1900, from www.nyc-architecture.com