The 1910s are considered the era of change or coming of age in America and with this maturity came many inventors, social change agents and firsts for the country. It was during this renaissance that 'Abdu'l-Bahá visited America.
He met with many prominent people while traveling in America, among them politicians such as President Theodore Roosevelt in Washington,  D.C. and the Lt. Governor of Massachusetts Robert Luce in Boston.  'Abdu'l-Bahá met with W.E.B. DuBois, co-founder of the NAACP in Chicago and spoke on the hazards of racial prejudice.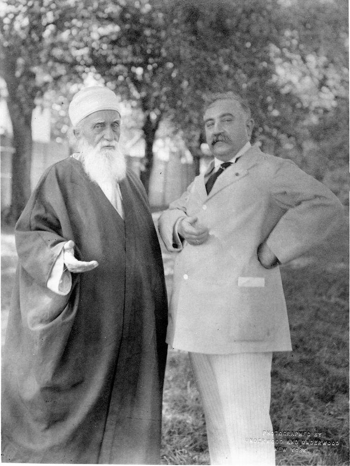 Among the many clergy 'Abdu'l-Bahá met was noted Reverend Percy Stickney Grant of the Church of the Ascension, a friend of Juliet Thompson's and the host of 'Abdu'l-Bahá's first public address the first Sunday He was in America (April 14, 1912). Rev. Grant had the utmost respect for 'Abdu'l-Bahá describing Him as: "The Master compels one's love and esteem. What He radiates is peace and love. "
Admiral Robert Peary who had just explored the North Pole was praised by 'Abdu'l-Bahá in a meeting in Washington D.C. on April 23 and told by 'Abdu'l-Bahá, "I hope you will explore the invisibilities of the Kingdom."
'Abdu'l-Bahá's main focus was to meet with the poor and He turned down many invitations from socialites. One exception was made for industrialist Andrew Carnegie who was a most important philanthropist of his time.  He was a Scottish-American who led the enormous expansion of the American steel industry. To him, 'Abdu'l-Bahá said, "It is incumbent on every one to engage in some occupation, such as arts, trades, the like. We have made this – your occupation – identical with the worship of God."
Perhaps, one of the most significant meetings of this kind was with Alexandar Graham Bell, the inventor of the telephone, at his home in Washington D.C. on April 24. Bell had invited his friends so they could meet 'Abdu'l-Bahá after a long day of giving talks to many different groups. 'Abdu'l-Bahá arrived there late at night and even though He had not had dinner yet, He first spent time speaking through Bell to his wife who could not speak or hear.  Bell had invented the telephone while trying to develop a hearing device for his beloved wife. 'Abdu'l-Bahá praised Bell saying many discoveries came about in the same manner,  noting that America was discovered during the search for a route to the East. 'Abdu'l-Bahá spent the night at the Bell home since it was after midnight.
'Abdu'l-Bahá met many other prominent Americans such as David Jordan, first president of Stanford University ; Russell Conwell, founder of the Temple University;  noted artist Khalil Gibran; Turkish Ambassador Yusuf Diya Pasha; inventor Arthur Dodge;  U.S. Secretary of the Treasury Lee McClung;  Rabbi Martin Meyer; Persian Counsel-General Haozoun Topakyan and financier J.P. Morgan,  to name a few.
'Abdu'l-Bahá was very encouraging in meetings with those who came in contact with Him by either praising work they had accomplished or things they were capable of accomplishing for the betterment of mankind.
Sources:
http://kclibrary.lonestar.edu/decade10.html
239 days: 'Abdu'l-Bahá's Journey in America by Allan L. Ward
Mahmud's Diary
http://www.hearttoheartpublications.com/sharing-h2h/wp-content/uploads/2010/10/Abdul-Baha-and-his-various-visitations.pdf
Photo of 'Abdu'l-Bahá with the Persian Consul-General Topakyan from www.centenary.bahai.us
3 Comments