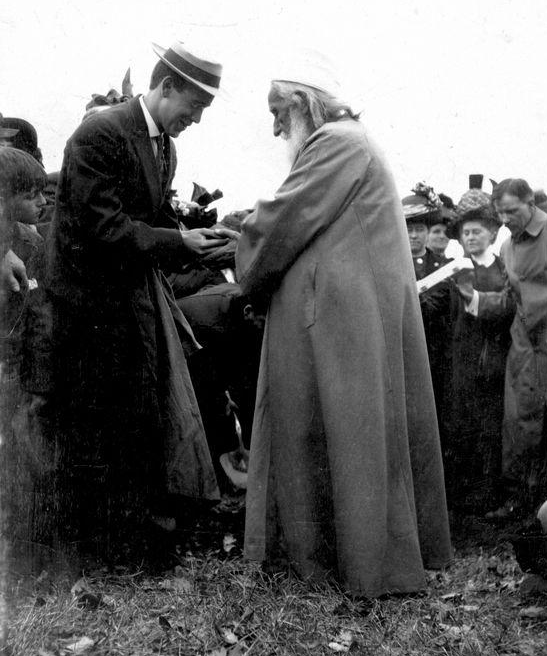 A hundred years ago on May 1st, "'Abdu'l-Bahá, standing before an audience several hundred strong, lifted a workman's axe and pierced the turf covering the Temple site at Grosse Pointe, north of Chicago".
This day was extremely important for the Bahá'í community of Chicago, "notwithstanding the cold and windy weather", as 'Abdu'l-Bahá had not only come to visit them on His journey through America, but He had also come to dedicate the site for the first House of Worship of the Occident.
At the centre of the tent, surrounded by the friends seated in three concentric circles, the Master declared that all Bahá'í Temples should be circular and have nine sides, "all the arrangement and construction is according to the principle and proportion of the number nine", putting forward as an example the almost completed House of Worship in Ishqábád.
When the moment of the dedication arrived, 'Abdu'l-Bahá broke the rigid soil with the axe and "representatives of the various races and countries came forward to share in the digging". Then the Master rolled the cornerstone into the ground and pronounced: "the Temple is already built."
The original purpose of temples and houses of worships is unity — to be a place where people from different races can come together in love and harmony. In this new Revelation, Baha'u'llah has "commanded that a place of worship be built for all the religions of the world". These Mashriqu'l-Adhkárs are a "universal shelter" from where the "proclamation of the oneness on mankind shall go forth", and where all will "adore the one God in the same spirit of truth".
With the current construction of the House of Worship in Chile, each continent is being adorned with the presence of a House of Worship and is starting to fulfill 'Abdu'l-Bahá's prophecy that "Thousands of Mashriqu'l-Adhkárs, dawning points of praise and mention of God for all religionists will be built in the East and in the West […] In the future there will be many here and elsewhere—in Asia, Europe, even in Africa, New Zealand and Australia".
A century after the beginning of the construction of the "Mother Temple of the West", the Universal House of Justice announced in their most recent Ridván message the astonishing news that the time has come for the emergance of the first national and local Mashriqu'l-Adhkárs so "the ground broken by the hand of 'Abdu'l-Bahá a hundred years ago is to be broken again in seven more countries, this being but the prelude to the day when within every city and village, in obedience to the bidding of Bahá'u'lláh, a building is upraised for the worship of the Lord. From these Dawning-Points of the Remembrance of God will shine the rays of His light and peal out the anthems of His praise."
References:
Promulgation of Universal Peace
Mahmud's Diary
Ridván Message 2012
Photo: 'Abdu'l‐Bahá giving souvenir of the Temple dedication to Charles Greenleaf from www.centenary.bahai.us
1 Comment